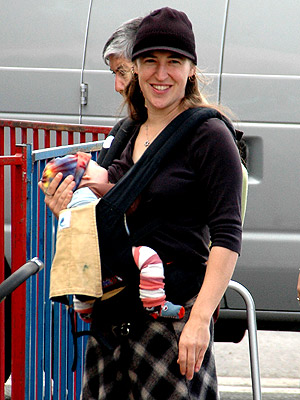 Adrian Varnedoe/Pacific Coast News
Update: We've heard from Mayim, who gives us the details and tells CBB about her delivery experience with her second son!
"Frederick Heschel arrived at 8:32 a.m. on Friday, August 15th, weighing in at 7 lbs, 15 oz and 20 ¼ inches long. His first name is for my grandpa, and his middle name is for Rabbi Abraham Joshua Heschel, who marched with Martin Luther King Jr. in Selma. In Hebrew, Ephraim Hirsch.

He was born after a remarkably fast and beautiful natural one-and-a-half hour labor at our home, assisted only for the final pushing stage of labor! I used hypnosis for pain management. Frederick was born with my water never breaking, known as being born "in the caul" (amniotic sac). Our 3-year-old, Miles, watched the whole thing from his highchair while eating granola!

Frederick is exclusively breastfed on demand and doubled his birth weight by two months of age! Miles does not attend preschool, so he is home with us all the time, is adjusting really well and doing pretty great."